Sunday saw us driving to Freycenet National Park via Scottsdale and St Sunday saw us driving to Freycenet National Park via Scottsdale and St Helens and then down the NE Coast though the towns of Scamander and Bicheno.
A surprisingly large part cf this trip was through mountainous country with either native forest or plantations. The timber industry is certainly alive and well around the area of Scottsdale. Judging by the number of dead wallabies and possums by the road side, these hills were well stocked with wildlife. The road is very windy for much of this trip.
St Helens is a fishing town and we stopped there for lurch. At the wharf, we watched a fishing boat unloading scallops onto a truck from the Muires Seafood Restaurant (the Tasmanian equivalent to Doyles in Sydney). Hopefully we can eat at Muires when we get to Hobart
We reached Freycenet at about 4.30pm and checked into the cabin that we had previously booked. We had time for a few photos of the beach and then went down to the bar to watch a vivid sunset over Coles ßay. We watched a brief slide show of scenery in the National Park and then went onto the restaurant for dinner.
We had seen a lot of evidence of possums on the balcony of our cabin so we took a couple of apples from the bowl at the reception desk to see if we could attract any to come around. We found three very large brushtails waiting at the door – as if food was a real expectation. These animals were so tame that they ate right out of our hands and allowed us to touch them as they ate. Given half a chance, they would have come into our room but that would have been a real problem.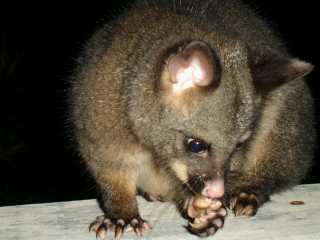 We finished the day by lying in bed with the curtains open and watching the possums on the balcony in the light of the full moon.