Merry Christmas and Greetings to all our friends.
It always seems that we never keep in touch nearly well enough, but we hope that newsletters like this at least keep our friends up to date with our major activities. We have had a very busy year once again in 2005. Time has passed faster than we could ever have expected. Life for us seems to keep going at a rather fast pace but if we are really honest, we probably prefer it that way. Life sees to short to waste and we would prefer to take every opportunity to maximise it to the full. Essentially we are all keeping fit and well. Here is a summary of the major things that have happened to each of us over the past year.
Cathy & Chris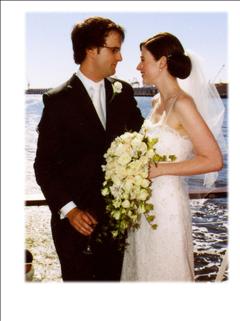 We had a wonderful day when Cathy & Chris married on January 30th this year. They then set off for 6 months travel around Europe and had a fantastic long honeymoon. They had initially planned to work in the UK but while Chris could have got leave from his firm, Cathy would have had to do further exams to qualify to work in Britain. They returned in July and somehow, after such a long break, Chris seemed to seamlessly pick up his role as Senior Associate in his law firm and Cathy went back to a short term contract as a Medical Resident at Footscray Hospital (Western Health). Within a few weeks of returning home, they had bought a town house in Collingwood and are now enjoying being in their own domain. It is a very nice modern residence in a new redevelopment – coincidentally in the same location as the nursing home in which Jill's grandmother died. Cathy & Chris are now joined by Chloe – the cat. Next year Cathy continues at the same hospital in a new role as Medical Registrar. Chris is looking forward to more work and his weekly golf games.
David
David received a promotion to Senior Associate in his legal firm and likes his work immensely. His firm moved to a new building during the year and he is enjoying the modern facilities in his office. His work involves him in many interesting cases in his legal field of intellectual property law, trademarks and brands. He has been enjoying his little terrace house in Clifton Hill that he purchased a year ago and has it set up very comfortably. David has been maintaining his long time interest in Japanese and he has had one business trip to Japan during the year. He is frequently the guest of the Japanese Consulate as a member of the Australia – Japan Business Group. He visited his host family in Nara on the way to join Cathy and Chris for a few weeks while they were travelling in a part of Eastern Europe. He completed a gruelling trip in the 230 kilometre annual bicycle ride around the Port Phillip Bay and keeps fit enough to walk the legs off his dad on the occasional bushwalking trip. Next year he plans to visit his Japanese family again in Nara.
Jill
Jill still enjoys her garden and has it in excellent shape (with very little help from Bruce). She has been an active member of our church book club and has read a lot of very stimulating stories over the year. She is also a member of the Vestry and coordinates bi monthly community lunches. She is on the flower roster and puts a lot of time into organising many social activities and dinners. She has a strong network of friends from previous committees and school groups whom she meets with regularly. As a result of this she has a fantastic knowledge of most of the coffee shops in the eastern suburbs of Melbourne. Although she isn't very interested in some of the more adventurous trips that Bruce gets involved in, Jill is a keen traveller. This year we spent three weeks in Vietnam (mostly in the northern part) and a week in Hong Kong. We have also spent a few weeks driving around various parts of Australia with trips to Tasmania, Port Macquarie as well as going to & from our favourite B&B's over a number of weekends. Jill's mum, Nancy, is now 94 and very frail. We are pleased that the nursing home in which she now resides provides a high level of care.
Bruce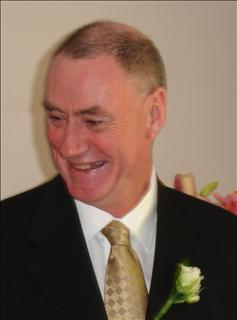 Bruce has relieved some of his work pressure by blocking out a good deal of time for travel and has aimed to maintain about a 50% work load. He has not actively marketed his business for a few years now but still has clients calling him to work with them. Generally this works out well although he is still travelling the country and maintains his Platinum Frequent Flyer status with Qantas. He enjoys having more spare time although he isn't ready for full time retirement yet. During the year Bruce has been able to sneak in a couple of bushwalking trips with David in addition to getting round the country and a few parts of the world with Jill.. He has been going to the Gym each week to keep fit and to work on some continuing nerve damage from some spinal surgery that he had a few years ago. He had great fun working with a small committee to organise a very successful reunion of his army unit from Vietnam last August. Almost 180 people attended and he enjoys catching up with the boys from time to time. Bruce has developed a strong interest in digital photography which helps us to have many memories of our trips and travel. He has also been working on a Wilson Family website. In January, he is trekking in Patagonia for ten days and then travels to Antarctica on a Russian ship for another 12 days. If you wish, you can follow his travels at our family website at www.wilsons.id.au One of the conditions for him being able to go on this trip has been the purchase of a satellite phone so that he can keep in touch with Jill while he is away.
We hope that you have a wonderful Christmas and a happy and healthy New Year with all your family and loved ones.
Love & Regards, The Wilsons